Principal's Message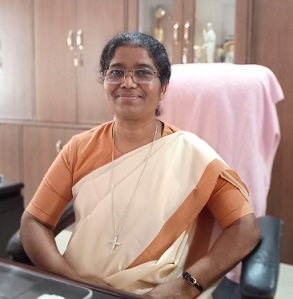 "Be filled with tenderness toward the children that you teach, and watchful over them, try to make them both respect and love you. Be gentle without being weak, firm without being harsh, serious without being haughty." – Bl. Marie Poussepin
Hearty Welcome to the website of Marie Poussepin's Academy.
As you navigate through the pages of this website you would discover important and interesting information about our school, our academic programme and student life.
As the Principal of the school, I feel honoured and privileged to be part of an educational institution that marches forward with the motto to be "committed to educate lifelong learners." Every day is an opportunity to learn and discover. We look at ourselves as a community of learners, where everyone learns including our students,teachers, parents & staff. We promote academic excellence through a systematic and well planned curriculum.
At MPA, our teachers exhibit absolute commitment to strive to understand and improve the educational process, using modern technologies, while imparting their knowledge skills centering on students achievement.
Our non-teaching staffs fruitfully employ the values of Love and Respect to foster a positive nurturing environment for all our students and parents.
We create amilieuthat fosters self-discipline, motivation, harmony, high self esteem and mutual respect. The students are helped to develop personal responsibility, self confidence, creative skills and character building with high moral values. There is an effective and collaborative partnership between school and home.
Systematic & Dynamic Online classes and the extensive use of ICTin the teaching-learning process has increased the confidence of students, teachers and parents to face any gigantic challenges with faith, dedication and team work.
The information provided in this site will lead you to a wide variety of programs in athletics, yoga, arts, music, dance, drama and other literary activities. An excellent support system including spacious library, science labs, computer lab, language lab, huge playground and children's parkensure that our children grow to their full potential.
We also know that this website cannot take the place of visiting our school. We encourage you to come and speak to us in person for a more detailed perspective. We warmly welcome you to discover and enjoy your child's school experience.
Dr. Sr. Anula OP
Principal